Before I link up with Shannon for So What Wednesday I have to say thank you. No, really. I am over whelmed with the number of page views
Monday's post
received. Let alone all the encouragement ya'll gave me
(no I am not from the south, but I still use terms like "ya'll")
. The closer I get to the 22 the more excited I get. Plus, now that every one knows, I can't slack off! Too many people are rooting for me to not take this seriously. I am blown away by how supportive all of you have been, with people like you backing me up, I am sure to succeed.
Okay, enough with the feelings stuff. It's time for "So What Wednesday" With Shannon from
Life After I "Dew"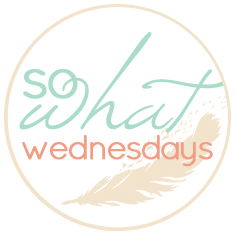 So What if I...
Stopped at Dunkin Doughnut's for coffee this morning even though I had a cup at home.
I threw a package of tortillas at my cat last night. He was asking for it!
Hate every solo picture of me that is saved on my computer and that is the real reason I haven't made a blog button.
Am not a fan of the colored jeans craze. It just reminds me of ice cream for some reason.
Hate bananas
Am wearing the same tank top under my cardigan today that I wore under my blouse yesterday.
Think Coach and Tory Burch bags are ugly.
Own three pairs of basic black pumps, I still wear them all.
Am re-watching all of Dawson's Creek. The 90's were a fun time (some times).
Don't have a 10th thing to list but feel funny ending on something other than an increment of 5.